Giving Tree
Regular price
$499.99 USD
Regular price
$699.99 USD
Sale price
$499.99 USD
Unit price
per
Sale
Sold out
[Dimmable Led Mirror]: Mirror with lights. 3 Color temperature 2700K ~ 6000K dimming, controlled with power switch touch button. Simply touch the power switch button for 3 seconds to change light intensity from normal to brightest. Anodized aluminum construction with a durable copper-free and corrosion-free finish.
[Wall Switch Control]: Both buttons have the memory function. The next time the mirror is turned on, it will remain the same as the last time it was turned off. It is recommend to use wall switch to control the mirror light and defogger ON/OFF so as to save energy. Whole product with ETL certification. More safety about the quality.
[Anti-fog Function]: The power switch and anti-fog switch are separate control, anti-fog according to need to open and close, safe and energy-saving. The built-in anti-fog function means no need to constantly treat your mirrors with fog free spray, or rinse them multiple times per shower. Clear the steam on the mirror in 15 seconds, no need to worry about the foggy anytime.
[Unique Design]: LED lifetime: 50,000 hours (Using the mirror 3 hours a day means it will last 45 Years). With silvered reflection layer, copper free & environmentally friendly. IP54 waterproof rating ensures safe lighting in wet bathroom environments. Button life time 100000 times. Integrated LED chips, no need for replacement of a bulb.
[Packaging & Accessories]: The backlit mirror comes with a customized packaging to protect the mirror in all aspects. It has passed all tests including dropping test, impact test, heavy pressure test etc. Screws and plug included. Flush mount to a wall, easy and seamless.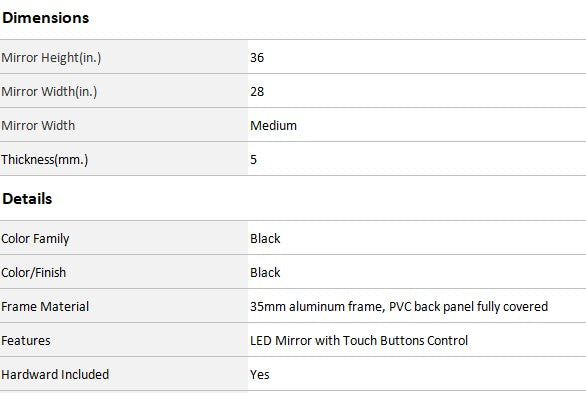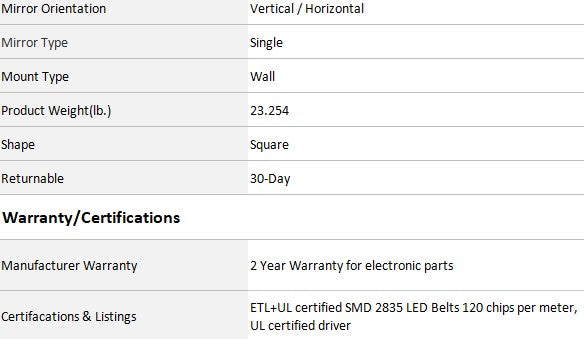 Share
FQAss

ORDER HELP

 

Shipping Policy

Giving Tree offers free shipping on all US orders. For Canadian shipping, we charge customs duties and excess shipping so you can receive your order free and clear on delivery. For detailed shipping information, click here.

 

Do you offer promo codes or discounts?

Giving Tree offers many promotions and discounts throughout the year. To view current promotions, visit our promotions page. To stay up to date with current promotions, new products, and trending styles for bathroom and kitchen spaces, please sign up for our newsletter by entering your email address in the subscribe field located at the footer of our website.

 

Do you offer contractor discounts?

Giving Tree offers significant discounts to qualified and licensed trade professionals as but not limited to plumbing contractors, home builders, interior designers, and architects. For more information about us, please contact our customer service staff at (347)-368-7521 or email us at sales@givingtreehome.com.

 

How can I check my package?

All packages should be inspected upon delivery. All UPS packages and common carrier shipments (tractor-trailer) must be inspected for damage within 48 hours of delivery. Damage claims made after these periods may be denied by UPS or the freight carrier. For more instructions on the correct procedure, please view our Check Your Package page.

 

I received an incomplete order

Please check your order for missing parts and accuracy within 48 hours of delivery time. If you find any parts missing or incorrect, please call our customer service team toll-free at (347)-368-7521 or email us at sales@givingtreehome.com and we will ship the parts you need. After this period, we reserve the right to assume that the item arrives with all the correct parts. 

 

How long will it take to receive my refund?

Giving Tree will notify you by email once we have received and processed the returned product. Please allow 10 business days for processing. Refunds will only be charged to the original purchase credit card account. It may take up to 10 days for your credit card company to credit your account after processing. For international refunds, the amount will be paid in US dollars at the time of purchase. We are not responsible for exchange rate fluctuations or any additional credit card charges.

 

I received the wrong item

In the rare event that we ship the wrong item to you, please contact our customer service as soon as possible on (347)-368-7521, or contact us at sales@givingtreehome.com. We will ship the correct item to you and pick up the incorrectly shipped item

 

Do I need a Giving Tree account to checkout?

An account is not required to place an order, although creating an account provides faster checkout, current order status, order history, and more. Customers without an account can place an order. If you would like to create an account, please visit our Create Account page or fill out your account information on the Guest Checkout page when placing your order.

 

What payment methods do you accept?

We accept the following payment methods: Visa, MasterCard, American Express, Discover Credit Card, JCB, Diners Club, Maestro, Union Pay, Klarna Payments, PayPal, Affirm

We require full payment before processing the order. In some cases, you may see a charge on your credit card statement before receiving the item. This can happen when you order an item with a longer lead time towards the end of your credit card billing cycle. If you have any questions, please contact our customer service staff as soon as possible on (347)-368-7521 or email us at sales@givingtreehome.com.

Please note that Giving Tree can only accept credit card payments from accounts in the US and Canada. If you place an order online with a credit card from any other country, your order will be canceled and your credit card will be automatically refunded. Depending on your credit card company, it may take up to 10 business days for refunds to be returned to the credit card. If placing an order online, we will contact you for alternative payment options and your shipping quote.

You can pay with cash, a credit card originating in the US or Canada, PayPal, PayPal Credit, or wire transfer. For wire transfers, orders under $1000 will incur an additional $15 wire transfer fee. Customers will be responsible for any taxes, duties, customs, or brokerage charges that may arise in addition to drop shipping costs.

Klarna Payments supports installment payments. Pay in 4: Split the cost of your purchase into 4 interest-free payments, paid every 2 weeks. Pay in 30 days: Start enjoying what you've ordered right away. Make payments online or in the Klarna app after trying the product IRL. No interest and only pay for what you keep.

For all our payment methods, please visit our payment methods page.

 

Can I place an order for pickup?

Our warehouse is open and you are welcome to visit at any time, if you need to visit, please contact our customer service staff at (347)-368-7521 or email us at sales@givingtreehome.com.

 

How can I cancel or change my order?

If you need to cancel your order, please contact our customer service staff at (347)-368-7521 as soon as possible, or email us at sales@givingtreehome.com. You can cancel standard orders before shipping. Our return policy takes effect after the order is shipped.

 

Do you charge a return fee to return an item?

Giving Tree will charge no additional fees if you comply with our return policy. If you do not comply with one or more of the stated policies, the following charges may apply:

Damaged product box – 10% fee

Return to an incorrect location – 25% restocking fee

A 15% restocking fee applies for packages or shipments that are refused return upon delivery.

Goods returned due to non-acceptance of delivery appointments or refusal to make a timely appointment with the carrier; 15% restocking and return shipping charges apply for returned goods.

To view our full return policy, click here.

 

How do I return my purchases?

Need to set up returns? Email our customer service team at sales@givingtreehome.com.

Returns can only be made within 30 days of receiving your product, and all products must be in a resaleable condition and free of damage or defects. No refunds will be given if the product is returned in an unsellable condition. This product had to be installed and must be returned in its original packaging. The customer is responsible for return shipping.

Please note that special order items and custom products are non-returnable and cannot be canceled once production begins, and sales of all products marked "non-returnable" are final.

To return a product, you will need to send our Customer Service Team a Return Material Authorization by emailing sales@givingtreehome.com.

To avoid any additional charges, please include all original packaging materials, manuals, and accessories that came with the product. Please make sure the product is safe in the packaging so no damage will occur on the way back to our warehouse. We recommend that you double-pack the item to protect it from shipping damage.

We recommend returning products including proof of delivery.

For more information, please view our full Returns Policy.

 

How can I check the status of my order or track my shipment?

After your order ships, Giving Tree will send you an email with a tracking code. You can track every step of your package directly from our order tracking page. Customers with a Giving Tree account can also view order history and status.

 

How do I contact Giving Tree Customer Support?

Please call our customer support team at (347)-368-7521 to contact our customer service staff or email us at sales@givingtreehome.com.

Customer Service Hours:

Monday to Thursday: 8:00 am to 5:00 pm

Friday & Saturday & Sunday: Rest

*Please note: All times are U.S. Central Time(UTC/GMT8:00-5:00)

 

My item arrived damaged/defective

Check your order for damage within 48 working hours after the delivery time. In the case of a bathtub, please follow the inspection and/or unpacking documents you received from Giving Tree to protect you from liability for shipping damage. If you cannot reasonably inspect an item that requires a signature on delivery (like most tubs), please sign and print the receipt One crate received - content not checks; This does not guarantee that the shipper will pay the damage claim, but it is more efficient than signing the goods should be "free from damage".

If you are unable to inspect the item upon delivery, please do so within 48 hours.

If your product is damaged in transit, please call our customer support team at (347)-368-7521 or contact us at sales@givingtreehome.com. We will not honor claims made more than 48 business hours after delivery.

Damage in transit is the responsibility of the shipping company/carrier (eg: UPS, USPS, ABF Trucking, R&L Carriers, and FedEx).

Defective items are covered by their manufacturer's warranty. Please call our customer support team at (347)-368-7521within 48 hours of delivery, or contact us at sales@givingtreehome.com. We will make every effort to resolve the issue quickly.

 

The item I ordered was not as described on the website.

Please let us know if you think our description of an item is inaccurate. We take great care to provide the most accurate information about our products, please call our customer support team at (347)-368-7521 within 48 hours of delivery, or contact us at sales@givingtreehome.com. Many times we can reach a satisfactory solution that does not involve returns.

  

 

General help

 

 

What is overflow?

An overflow is an opening that helps prevent flooding by redirecting excess water back into the drain once a certain water level is reached.
Do you have replacement parts?
While we do not have parts available for purchase online, a member of our dedicated customer service team will be happy to place an order for any replacement parts you may need. Please call our customer support team at (347)-368-7521 to contact our customer service staff or email us at sales@givingtreehome.com.

 

Do you ship to Canada?

Please call our customer support team at (347)-368-7521 to contact our customer service staff or email us at sales@givingtreehome.com. For our full shipping policy, please visit our Free Shipping page.

 

Do you offer international shipping?

At Giving Tree, we offer free shipping to all 48 US states on all orders. Orders delivered outside the continental US 48 will be calculated on a case-by-case basis. To place an international order, please call our customer support team at (347)-368-7521 or contact us at sales@givingtreehome.com.

Due to changing import fees, brokerage fees, and government taxes, Vintage Tub & Bath's shipping quotes and fees do not include these fees. Payment of these fees is the customer's sole responsibility unless otherwise stated in the quotation.

For our full shipping policy, please visit our Free Shipping page.

 

What if I have questions about the installation?

Giving Tree offers products under various brands. Due to our large product catalog, we provide all available installation instructions in each product package. Please refer to the Specifications tab on the specific project product page for detailed installation instructions. If you have any other questions, please call our customer support team at (347)-368-7521 or contact us at sales@givingtreehome.com.

 

How to contact customer service?

Please call our customer support team at (347)-368-7521 to contact our customer service staff or email us at sales@givingtreehome.com.

 

Is it safe to shop at givingtreehome.com?

Absolutely. We take security and privacy seriously and take many steps to ensure a safe and secure environment for our customers.

Safety to ensure our customers' safe and secure experience, our website uses SSL (Secure Sockets Layer) encryption. This encryption is a standard security process used by commercial websites to protect your personal and financial data from inappropriate use. You'll know you're in "safe mode" when you see a closed padlock in your browser's address bar.

Privacy Giving Tree will never sell, rent, or give away any information you provide to us to any individual, business, or organization that is not involved in processing your order. The information you provide is only used to process orders, customize your shopping experience, improve our store, and communicate with you.

To provide a great customer experience, our shopping cart, analytics (Google and Microsoft), and remarketing campaigns place small amounts of code, also known as "cookies", on your computer. This is a commonly used code that allows our website to remember your order. You can delete this cookie after your order has been processed. If your browser is set to automatically refuse cookies, you will receive an error message when trying to place an order.

All communications from Giving Tree are email communications regarding orders, catalog requests, promotions, social media, or opt-in. Our website also contains links to our social media accounts such as, but not limited to, Facebook, Instagram, Pinterest, Twitter, and Houzz. Interaction with these features is governed by the privacy policy of the company that provides it.

If you would like Giving Tree to delete all of your user data, please contact our Customer Service at (347)-368-7521 to our Customer Support Team, or send us a direct request by emailing us at sales@givingtreehome.com. For more details on our policies, please see our Terms and Conditions of Sale page.

 

Do you provide a warranty?

Each brand offered by Giving Tree comes with a respective manufacturer's warranty. Warranties can be viewed on the product page under the Overview tab. For more specific warranty questions, please call our customer support team at (347)-368-7521 or contact us at sales@givingtreehome.com.

 

Do you have a physical store?

Giving Tree does not have a physical store. All products can be viewed and purchased directly on our website. For questions about products or placing an order, please call our Customer Support Team at (347)-368-7521 or contact us at sales@givingtreehome.com.

 

Where can I follow Giving Tree on social media?

Giving Tree is active on many popular social networking sites, including Facebook, Instagram, Pinterest, TikTok, YouTube, and Houzz. We love having customers share ideas, reviews, and product images. Please use the social icons below or any other page on the site.

 

 

(Please click to view the question)

 

 

 

 

 

 (Please click to view the question)

 

 

 

 

 

 (Please click to view the question)

 





 

 (Please click to view the question)

 

 

 (Please click to view the question)

 









 (Please click to view the question)

 

.

 (Please click to view the question)

 






 (Please click to view the question)

 

 
SHIPPING & WARRANTY

Givingtree understands that getting your items in a timely manner is important to you, so we process your order swiftly. Free standard shipping in the contiguous USA. Ship within 3 - 7 business days.  Please note that because we make every effort to ship your product as quickly as possible, once the shipping process begins we are unable to make any changes to your order.

 

ABOUT SHIPPING

If you purchased a bulky item (eg: bathtub/faucet/sink/mirror/toilet/cabinet/shelf) requires US truck delivery.

We will provide the tracking number within 3-5 working days. Generally, there will be logistics information within 7 working days after the waybill number is provided. Items will arrive within 5-7 business days after dispatch.
Products are sent to you with Truck Delivery. We'll call you in advance to schedule the best delivery time. Truck Delivery includes shipping only. It does not include inside delivery, unpackaged, or moving; it is the recipient's sole responsibility to arrange for removal from the curb, uncrating, and inside delivery. In-stock items arrive within 3 to 7 days with Truck Delivery. Please inspect your purchases within 48 hours of receipt and give us a call with any issues or concerns. We cannot accept returns on a damaged or defective Truck Delivery item if it is not reported within 48 hours of delivery.

If you bought anything else: UPS Ground
The other of our items ship via UPS Ground unless otherwise indicated. Item will shipped after ordered 3-5 business days, and take 7-15 business days to reach you. You will be emailed a UPS tracking number when your product is shipped. If the value of order is less than $59.99, you need to pay $9.99 for shipping.We provide free shipping for $59.99+. We do not take responsibility for the taxes if they are incurred during the shipping process.

Affected by Covid-19, there will be some delay on the delivery.

 

TRACKING YOUR ORDER

Once your order leaves our warehouse, a tracking number will be emailed to you. The tracking number will generally be updated within 7 working days.

 

LOST OR DAMAGED PACKAGES

If your package arrives damaged, or if you are missing any items from your order, please contact us immediately at sales@givingtreehome.com. We will take care of the problem as soon as possible. Please be sure to save your box and all packing materials in case an inspection or pickup is needed.

The delivered status is displayed in your logistics information. If you can't find the item.You need to contact the shipping company as soon as possible. In the case of confirming that the item is lost. File a claim with the shipping company immediately. Then contact us at sales@givingtreehome.com. After you provide the evidence, we will arrange the re-shipment for you immediately.

 

PRODUCT WARRANTY POLICY

All products are warranted to the original owner to be free of manufacturing and mechanical defects from the date of the original purchase. If a defect is found, we will provide a replacement part or product, or make the appropriate adjustment.

We provide 1 years warranty to our customer.

Normal wear and tear from daily use is not covered. For example, the look of materials such as copper, bronze, nickel, teak, and bamboo without a protective varnish or finish can be expected to naturally change over time and with normal use. Other exclusions include damages incurred as a result of installation, replacement, or repair, and damages due to improper cleaning, misuse, or neglect. This warranty does not cover products installed outside of the United States and Canada. 30 days free exchange & return.

 

If the product is used commercially or in a multi-unit setting, Giving Tree Home warrants the product to be free of manufacturing and mechanical defects within five years from the date the product is delivered. We marked Warranty year under every product.

If you have any question, please email us at sales@givingtreehome.com.
RETURNS, REFUNDS & EXCHANGES

We take pride in quality products customized by you. We want you to be completely satisfied with your purchase. Most of our product is custom and non-returnable, so please ensure you've made the appropriate measurements and understand installation instructions before placing your order. See list below of other non-returnable items.

We're here to help walk you through these decisions. Please contact us with questions at sales@givingtreehome.com. If you live nearby one of our retail locations, our knowledgeable sales associates will be able to answer any and all questions.

If your item is eligible for a refund, we offer a full refund or exchange if it is returned to us within 30 days. Please inspect your products immediately upon delivery to notify us of any damaged, incomplete, or inaccurate shipments, and we'll fix the issue or offer a full refund. Free return and exchange within 15 days.

To receive a full refund, all merchandise must be in original packaging and original condition, with all installation hardware and original receipt included. A receipt is required for all returns and exchanges. Shipping and handling fees are not refundable. We will provide return shipping labels for defective product or shipping errors.



DETAILS
Non-returnable Items:

Custom items, including lighting and furniture.
Items damaged through normal wear and tear.
Items shipped directly from vendor.

 

REFUND POLICY
Original Receipt: A receipt is required for all returns and exchanges. Returns will be refunded in the original form of payment.
Delivery Fees: Delivery fees are not refundable and prior purchases are not eligible for price adjustments.
Cash & Check Refunds: Cash and check refunds over $100 will be issued as a company check and mailed to you (may take 14 business days).

Damaged product box – 15% fee
Return to an incorrect location – 25% restocking fee
A 15% restocking fee applies for packages or shipments that are refused return upon delivery.

Items returned due to non-acceptance of delivery appointments or refusal to make an appointment in time with the carrier; 15% restocking and return shipping charges apply for returned items.

 

Send your package

If possible, pack the item in the original shipping box or a sturdy plain cardboard box. Remove or cover any pre-existing labels or stickers. Print the return number and return address label included in the email and attach it to the box with clear packing tape. The box is completely sealed to ensure the item can be transported safely.For returns, returns sent via other carriers (including UPS, USPS, etc.) are subject to shipping charges at the customer's expense.



RETURN ADDRESS

3849 s Delsea dr D0000

,Power 13021

Vineland NJ 08360

United States

9172878119

Power warehouse - 13021

CONTACT US
Email: sales@givingtreehome.com
View full details